Imphal, June 20, 2021: Taking the war of words between the BJP and Congress over a purported statement passed by Chief Minister N Biren on the relief materials being distributed to the people during the Covid induced lockdown, further, chief spokesperson of the BJP, Ch Bijoy today said that the double standard stance of the Congress will not cut ice with anyone.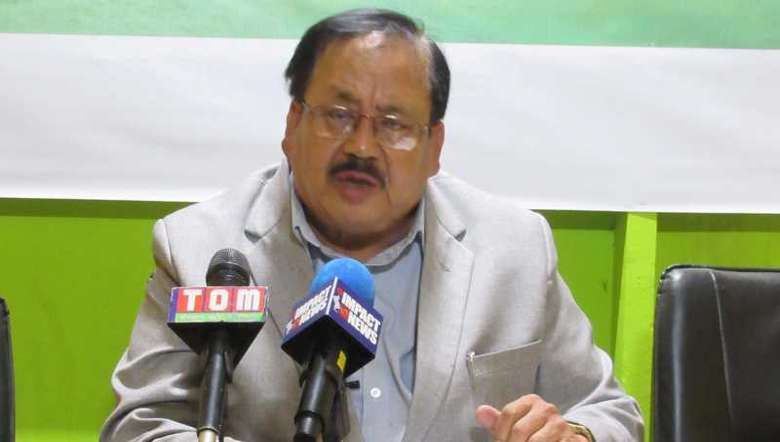 In a video message circulated to the media houses, Ch Bijoy recalled that former Prime Minister Dr Manmohan Singh had infamously quipped, 'Money does not grow on trees' on September 21, 2012 when there was an uproar over the steep hike of diesel by Rs 5 per litre.
This had led to the Trinamool Congress to snap ties with the Congress led UPA Government at the Centre, he recalled.
The chief spokesperson recalled Chief Minister N Biren as saying, "The Covid vaccines, medical facilities and the relief materials being distributed now have not rained from the sky" and added that this not at all different from what Dr Manmohan Singh had said back then.
MPCC president Govindas Konthoujam has conveniently overlooked this fact and come out against the statement of the Chief Minister, ridiculed Ch Bijoy.
Why isn't Govindas Konthoujam asking for an apology from Dr Manmohan Singh for his 2012 comment, countered Ch Bijoy and added that it is absurd that the MPPC should be demanding an apology from Chief Minister N Biren for having said the same thing.
This is nothing but double standard and unbecoming of a public figure, said Ch Bijoy and added that on the contrary Govindas should apologise to the people.
On the hike of the prices of petroleum products, Ch Bijoy explained that when the Narendra Modi Government came to power in 2014, the previous Congress Government had left a whooping amount of Rs 1.44 lakh crore deficit for procuring petroleum products.
The amount inclusive of interest is Rs 7 lakh crore and this what the NDA Government inherited from the Congress, he alleged.
Earlier the price was 'artificially' kept down to enable the Congress use many vehicles for the elections, charged Bijoy.
Spelling out other shortcomings of the Congress party, Ch Bijoy alleged that during the Chinese invasion of 1962, it was clear that there was no question of updating the defence mechanisms.
Modernisation of the defence started only when Atal Behari Vajpayee became the Prime Minister, he added.